I'm back from OpenWorld and my head is still buzzing from the excitement of this week. It has been an absolute whirlwind of information, awesome people, and events.
Unfortunately I wasn't able to attend Sunday's festivities as I arrived Sunday night. First thing Monday morning I checked in and received my badge and ceremonial OpenWorld backpack (which my 9 year old is now sporting proudly to school along with an assortment of exhibition hall swag).
Now OpenWorld is awesome; there are a ton of great events and places to go and people to meet. However, upon checking in I immediately made a beeline to OakTable World, the conference within a conference that was masterfully organized by Kyle Hailey and sponsored by Delphix, Pythian, and other great companies. For those who don't know, OakTable World offers a different breed of presentation for the conference-goer. You will generally find a lot of in-depth material there on the innards of Oracle technology and the practical uses of new technology. I attended quite a few sessions there:
Amazon vs. eBay: NoSQL vs Oracle with Iggy Fernandez
ETL on Hadoop with Gwen Shapira
Virtual Databases with Jonathan Lewis
DevOps Roundtable with Jonathan Lewis, Cary Milsap, Eric Schrock, James Murtagh, and Kent Graziano
10053 Trace with Doug Burns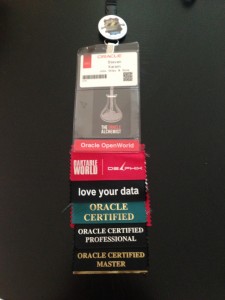 At about that time I figured out that many people don't know you (or don't want to guess if it's you) until you share your Twitter handle. It's actually kind of funny wading into this mob of people, peering at those you think you know, hoping that their badge will turn around so you can figure out what their name is. There were several times when I'd say "I'm the Oracle Alchemist" and instantly see recognition dawn on someone's face. So I solved the problem by putting my business card in my badge. It helped.
Oh yeah, the ribbons. Those kind of accumulate. I ended up having to paginate, with a set of ribbons on top and a set underneath that. Some folks preferred to let it all hang out, like Yury Velinakov and his dashing loincloth.
Of course, mentioning Yury brings me to the community. OpenWorld boasted ~60,000 attendees so there was no shortage of amazing people there. But it was absolutely incredible meeting many of the folks in the Oracle community that I interact with on a near-regular basis, whether through blogs or Twitter or countless other means. Hanging out at OakTable World, the OTN Lounge, and any other random spot was awesome and really made the conference.
On Wednesday I had a really cool opportunity to appear on SiliconANGLE's show theCUBE. Hosts Dave Vellante and John Furrier were excellent, and we had a great chat about (big) content and (big) data, Oracle technology, and various other topics. It gave me an opportunity to rep my company a bit as well as make excessive use of hand motions while talking.
[youtube=http://www.youtube.com/watch?v=cyHZA8rSh5s&w=583]
See? Hand motions. Lots of hand motions. Oh, and tech talk.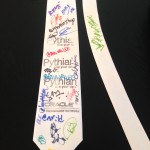 To really make the community experience great, Wednesday was also the day of Pythian's Blogger Meetup at Jillians. There we were, wordsmiths all, drowned in food, drinks, and sharpie-covered neckties. It was an awesome chance to talk and party after the hecticness of OpenWorld itself. Oracle might provide the engine(ered systems) but the community definitely drives the car.
All in all it was an absolutely fantastic experience and probably one of the best conferences I've ever been to. Watch out for more posts from me on OpenWorld and the new technology and community response that it unveiled!
Oh, and while I'm at it: as of September 25th (3 months after the original post), the 12c Community Content list now boasts 387 articles by 130 distinct authors. That's some serious dedication from the Oracle community.