Last week I attended Oracle OpenWorld 2014, and it was an outstanding event filled with great people, awesome sessions, and a few outstanding notable experiences.
Personally I thought the messaging behind the conference itself wasn't as amazing and upbeat as OpenWorld 2013, but that's almost to be expected. Last year there was a ton of buzz around the introduction of Oracle 12c, Big Data was a buzzword that people were totally excited and not too horribly burnt out on, and there was barely a cloud in the sky. This year cloud it was cloud all about cloud the Cloud cloud (Spoiler alert: it was the Cloud all along) which just didn't have that same excitement factor.
But it's still OpenWorld, set in the heart of San Francisco with tens of thousands of buzzing Oracle faithful. And therefore it was still a pretty awesome time.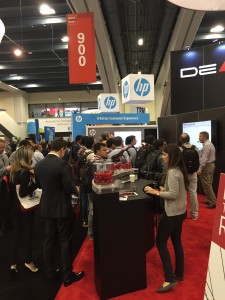 This year I went representing Delphix, and man did we represent. The enthusiasm and technical curiosity were evident as our booth filled up for three days straight with folks eager to hear the good news of the data virtualization. I have to say, the DBA in me finds the promise of syncing databases to a software platform that can provision full-size, read/write clones in a couple minutes with no additional disk usage quite alluring. But there was more to the message than the technology behind the platform; there were also a plethora of use cases that captured people's attention. Faster and more on-time business intelligence and analytics, application and database testing, regulatory compliance, and more. If that wasn't enough, we also had Jonathan Lewis, Tim Gorman, Kyle Hailey, Ben Prusinski, and yours truly speaking at the booth which was a great bit of fun and drew a lot of folks that wanted to learn more.
On Monday I was honored to be invited back on SiliconAngle's conference web show theCUBE to talk about copy data, Delphix, the Cloud (that should be fun for people running Cloud to Butt), Oracle's strategy, and more. They had not one but two booths at OpenWorld this year. The always charismatic and ever savvy Dave Vellante and I had an outstanding chat, which you can see right here!
[youtube=https://www.youtube.com/watch?v=xMsyTthvSss&w=583]
Another fantastic part of the conference was OakTable World, which is technically not part of OpenWorld…rather, it is a "secret" conference-within-a-conference. Held at the Children's Museum nestled in the bosom of the Moscone Center (yay visuals), this conference features a lineup of incredibly technical folks talking about incredibly technical things to the wonder and amazement of all. This year was no different, with a great assortment of no-nonsense presentations. On the 2nd day of OakTable World there was also something I liked to call the Attack of the Attacks: #CloneAttack, #RepAttack, and #MonitorAttack. This event featured Delphix, DBVisit, and SolarWinds Confio and allowed people to get the software installed on their own laptops for tinkering, learning, and testing.
Pythian put on a couple exciting events as always, with the Friends of Pythian party on Monday night and the OTN Blogger Meetup on Wednesday. Both events were a blast as always, with a huge assortment of members of the Oracle community and beyond. Honestly, it's worth going just for the good food and to see Alex Gorbachev stand up on a booth bench and try to hush a crowd of buzzing datafiends.
All in all it was an outstanding OpenWorld and it was great catching up with some amazing and brilliant people. I can't wait to see you all again next year!