Are you going to Oracle OpenWorld 2014? I am, and I hope to see you there! As you probably know, OpenWorld is a humongous event with tens of thousands of people in attendance and some amazing presentations. Why, I even hear Oracle's new CTO might be there. I wonder if he has anything to talk about?
This year we'll have a ton of activity at the Delphix booth. You can check out the speaking schedule, location, and more on Delphix's website. At the very least you'll want to register to win a sweet custom carbon fiber bike. I'll be speaking on Monday, Tuesday, and Wednesday at the booth so please come on by and say hello.
I'll also be hanging out quite a bit at OakTable World with data technology luminaries Kyle Hailey, Tim Gorman, Ben Prusinski, Adam Bowen, and other Delphix folks to take part and prepare for a very special set of events: the Attacks!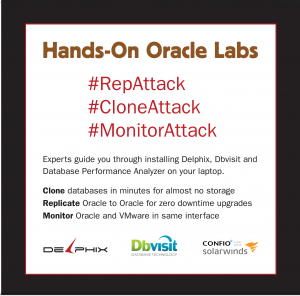 Delphix, DBVisit, and Solarwinds will be teaming up to present #CloneAttack, #RepAttack, and #MonitorAttack respectively, three events aimed at giving you real-world usage of some outstanding products for the Oracle world. Delphix specifically will be providing all participants with a 90-day developer trial of Delphix in all its glory so you can learn and experiment yourself with virtual data platforms. Be sure to check it out.
Lastly, I'm excited to announce that I will once again be appearing on #theCUBE this year. John Furrier and Dave Vellante are incredible hosts who really dig deep into the meat of the new tech and offerings in the IT world, and I'm honored to have been a part of their show last year and to be on again this year. That will be on Monday at 1PM PDT, so tune in if you can.
This promises to be an outstanding OpenWorld. I look forward to seeing you there!