The DBA job title is an interesting one. While everyone can understand "programmer" or "software tester" or even "system administrator", the DBA role is so misunderstood by both muggles (I'm going to hell for using that word) and colleagues alike. In fact, at this point I'm fairly certain that it stands for "Don't Bother Asking". Other's call it "Default Blame Accepter".
But it's an unquestionably fun role to be in. Though my professional adventures are fast moving beyond the traditional DBA role, I have to say that if there's one IT position I'd take on forever it's database administration. Yes, there are those nights where you want to stab your database with a rusty drop statement, but for the most part the combination of performance guru, disaster recovery god, development consultant, project manager, and storage administrator is just the right combination to keep busybodies like us satisfied.
With that on my mind this morning, I thought it would be fun to share how I got into computers and became a DBA.
The DOS Alchemist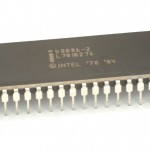 When I was around 9 or 10 my aunt and godmother Concetta gave me my first computer. It was an 8086 with a monochrome screen, two 5.25″ floppy drives, no hard drive, and 512KB RAM. One floppy held the OS (DOS 2.1 I think) and the other held whatever amazing programs I could run on it (so…none really). Actually, I think it may have run WordPerfect. Despite that setback, it allowed me to learn DOS and GW-BASIC, and before long I was coding awesome little programs that did stuff like this:
HELLO steve. HOW MANY TIMES DO YOU WANT TO HEAR CRAZY TRAIN?
2
PRESS ENTER TO LISTEN
beep beep. beep beep, beep beep, beep beep.
Beeps added for emphasis. It used the little main speaker like a boss.
After that aunt Chats (that's what we call her) came through again and gave me an 8088 computer she wasn't using. This thing was a beauty. 16 color EGA graphics with resolution so high a pixel was actually smaller than your head. I continued my journey and learning on that, thankful for the awe inspiring high technology that I possessed.
The BBS Alchemist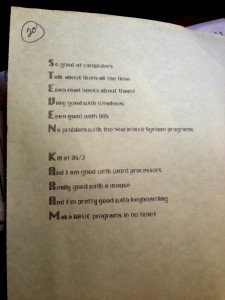 When I was a teenager I begged and begged my mom, made business plans and poster boards for an advertising campaign, and did whatever else I could until she finally relented and bought me a Packard Bell 486SX25. This puppy had a Sound Blaster, math coprocessor, and could play Wolfenstein 3D like it was nobody's business. It also came with a 14.4k US Robotics modem which allowed me to explore bulletin boards, play a lot of MUDs, download my first copy ever of Linux (Slackware on 40 or so floppy disks), and continue learning how to program. Looking back, I have to consider how awesome my mom was–those computers were about $2,500 back then and completely baffled my parents, so buying one for a teenager who insists that it is important was a huge leap of faith. It was a fun and weird time, since most kids my age had barely touched a computer beyond playing Oregon Trail on an Apple IIe until grandma died of dysentery.
By the time high school rolled around I was fairly versed in Windows 3.1 for Workgroups, slightly knowledgeable in Linux, and even acquainted with some other stuff. I was also fairly full of myself as a result. Despite my budding McDonald's career and low C average, I was going to get into computers damnit.
My creative writing kind of sucked back then.
The Oracle Alchemist
So one day I decided to prove myself by trying to break into the high school computer system. I knew from goofing around that you could exit the library search program by pressing CTRL+C and terminating the batch job. From there I was able to search the code and find that the 'graceful exit' password was "carat". From there, I was able to see the teacher's Novell Netware login screen.
I read through every BBS post and 2600 article on hacking I could find but there was nothing about how to break into Novell Netware. So I decided to write a spoof program. Using QBasic, I would recreate the login screen for teachers and place it in on the library computer at random intervals. When a teacher would enter their username and password, I'd intermittently record their response, throw a strange error, and take them to the actual screen. By the time anyone figured it out, I'd have dozens of passwords ready to use.
But it never came to pass. Oh, it looked good. Nearly ready to implement. But one day while writing some code in my notebook in study hall, a friend of mine saw what I was doing. He was impressed by how I was able to write code using pencil and paper without a computer nearby. Then one day he let me know that he had told his dad about me, and his dad wanted to meet me to talk about a job. After my shift at McDonald's, I went for an "interview" at Applebees where he treated me to dinner. And soon enough, I joined his company Lambda Consulting (my manager at McDonald's told me I'd regret it, as I could be manager one day) as an Oracle Developer (with a smattering of DBA work) making $9.50 an hour. For a high schooler I was in heaven, strutting the halls like a fat cat professional. Several years later when his contract ended I moved on to other companies where I got more and more into the DBA field.
And that's how it happened. tl;dr: I got my first Oracle job by trying to hack my high school computer in QBasic.
Have a story of your own? Share it in the comments!