One silly bug. Ah ah ah ah!
Bugs come in all shapes and sizes. Big bugs, little bugs, bugs that crash your database, bugs that make a query run oddly. Some believe there are even bugs in human existence.
There is a running joke that has been around forever regarding bugs vs. features. I think this picture explains it better than I ever could (artist unknown):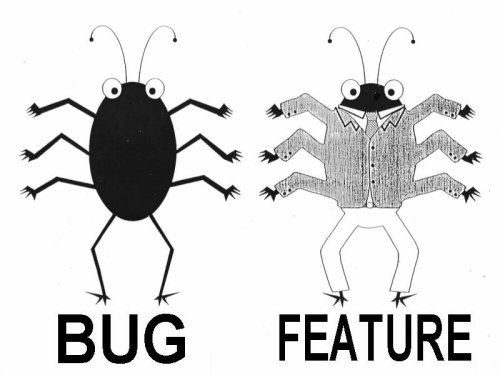 My Bug Story
So I was working with a client running Oracle 10.2.0.1 on Windows 2003. He informed me that he was having trouble getting DB Control to work. I logged in, took a look, and saw that even though the EM service started, and 'emctl status dbconsole' returned successfully, the page was not viewable.
I went through the usual litany. I checked out listeners, looked at IE security settings, made sure it was using a static IP instead of DHCP, tried to telnet to the port, no help at all. I re-configured using EMCA a couple times with different settings, and still, no EM.
Suffice it to say, this was a bit unusual. And so I turned to Metalink. The search terms were tough ('em no workie'?), but I stumbled upon this gem:
Note: 342916.1
Subject: Problem: Startup: Db Control 10.2.0.1 Fails To Start when the hostname begins with the letter "u"
No, I'm not kidding.
It turns out that there is a problem with backslashes in the file "$ORACLE_HOME\host_SID\sysman\config\emd.properties" when using a hostname beginning with the letter "U" for omsRecvDir . To fix the issue, all I had to do was configure EM (emca -config dbcontrol db), wait for the error that the service could not start, and change emd.properties, substituting forward slashes ('/') for backslashes ('\') in the omsRecvDir variable.
And behold, EM started and worked fine!
If you have any funny bug stories of your own, please feel free to share.